Sometimes, being organized and staying on task is almost as hard as the actual work you need to get done. And especially if you're juggling multiple clients who have similar projects with their own unique needs, your daily tasks can start to get a bit jumbled, or worse, even forgotten.
Luckily, there's a super simple way to stay organized: just write everything down!
So, what are you waiting for? Go download these free, printable to-do lists to increase your productivity.
If you're about to have an exceptionally busy day, sometimes it's nice to have everything in one spot. That's the best part about this to-do list from Simple as That – not only is it a standard to-do list, but it offers sections for notes, what you're eating for the day, and top priorities. Get things done and download it here.
This colorful printable is all about simplifying your day. Rather than providing lines upon lines to write your tasks, this to-do list from Design Love Fest forces you to focus on three main tasks. With additional sections for scheduling email and social media time, it's sure to help you zone in on what really needs to get done. Download it here.
I don't know about you, but the promise of food is highly motivating, especially when that food is a dessert. This to do list from Design Eat Repeat understands that principle perfectly, and encourages you to get your work done for one simple reward: cupcakes. To do it for the cupcakes, download it here.
This minimal to-do list is an elegant solution for all of your organizational needs. With five lines for every day of the week, it allows you to focus on the most important tasks while also keeping track of your entire week. Download it here.
Another weekly calendar, this to-do list from Designs By Miss Mandee is a simple solution for keeping track of your entire week. With plenty of space for each day and a notes section at the bottom, you'll have plenty of room to jot down any task, big or small. Download it here.
Ready to hit the road? Our free checklist will help you stay on task before your flight takes off! Plus, with some extra blank lines, you can customize it however you need to make sure you get everything wrapped up before you unplug. Just enter your email in the form below to download it!
Not a fan of lines? No problem. This weekly to-do list is completely blank (other than sections for each day) so you can write as big as you'd like, create your own checkboxes, doodle, whatever you need to help yourself stay on task! Download it here.
When you download this free to-do list from Every Tuesday, you'll actually get four varieties – orange, plum, seafoam, and cape cod blue. These colorful to-do lists encourage you to separate tasks based on priority, putting the most important things first and the "maybe" items last. Download it here.
Mix things up with this horizontal to-do list from MontgomeryFest. Featuring a notes section and inspirational quote, "Procrastination is the theif of dreams," this to-do list will help you stay on top of things all week long. Download it here.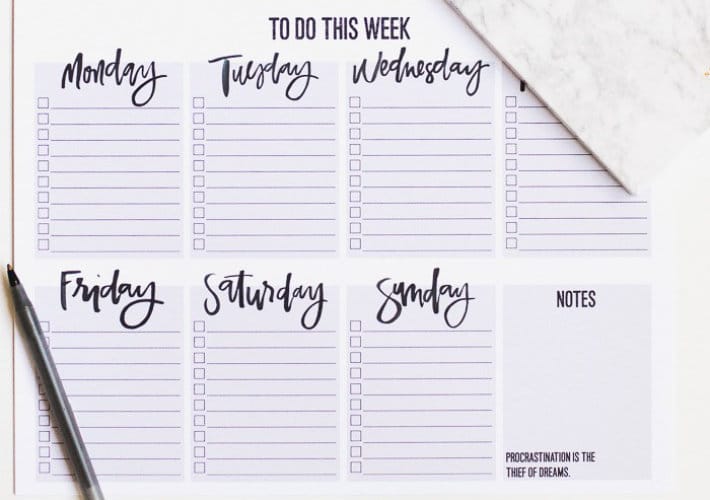 Know of any other great to-do lists? Help us build our list by sharing your favorites in the comments, then check out this roundup of free printables for designers!
---
Vacation Checklist for Designers
Planning for a trip can be stressful as a designer. The last thing you want is to forget anything if a client has an emergency. That's why we created this nifty little checklist for you so you can kick back and relax knowing you're prepped and have everything you need!