As your business grows, finding new clients to support your revenue goals can become increasingly time-consuming, and let's face it, hustling from project to project can get downright exhausting!
What's the answer? It might seem obvious, but staying organized with the right client management tools is one of the best ways to successfully grow your agency or freelancer business.
You don't need a ton of complicated solutions for effective growth. By focusing on key areas like revenue, billing and invoicing, and project management, you can gain a more strategic view of your clients and all the work you're doing for them.
In turn, you'll be able to refine your services and focus on repeat projects that hold the most value, not just the urgent deadlines that are right in front of you.
Building a predictable revenue stream
Creating a steady flow of ongoing projects is key for any growing business, but it requires breaking out of that project-to-project mindset and looking at your client engagements holistically, from scope of work, to invoicing, to revenue received.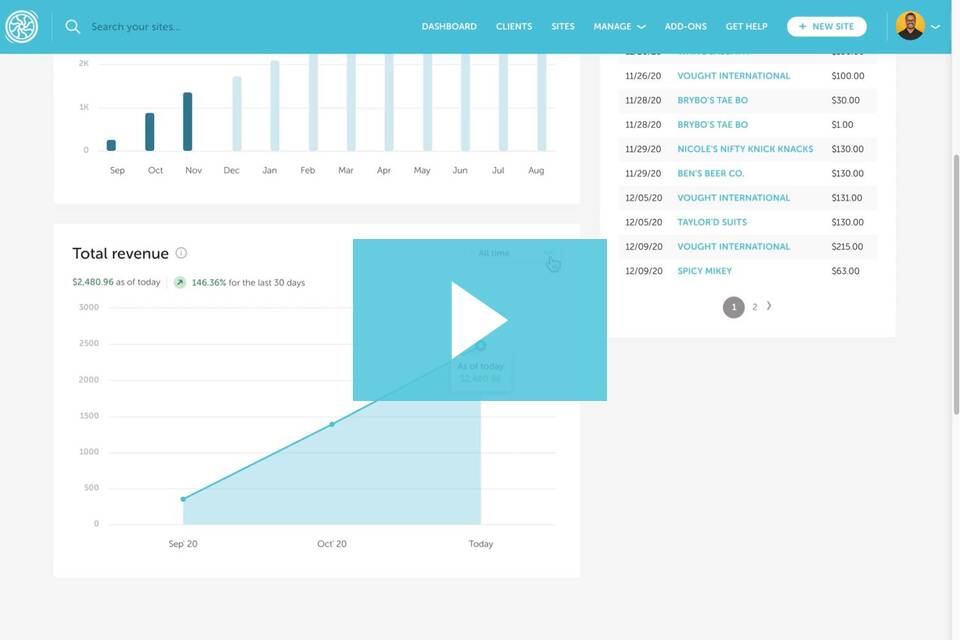 Growth Suite, which was built specifically to help agency owners and freelancers scale their businesses, combines client management, billing software, and managed WordPress hosting to help you see project trends and understand revenue streams in more detail, ultimately helping you create a steady stream of monthly recurring revenue (MRR).
Scheduled Invoices with Growth Suite
Now, building a predictable stream of MRR is even easier with Scheduled Invoices from Growth Suite, which allows you to not only get paid for all of the amazing work you do, but get paid on time, as a recurring subscription!
Delayed or lapsed payments can certainly derail your budding revenue stream, and adding safeguards to keep things as predictable as possible can make a huge difference.
That's why scheduled invoices are such an integral part of Growth Suite — with the ability to set due dates and automated payments associated with your invoices, Growth Suite makes it easy to create recurring services, and puts you in control of when you'll get paid, regardless of client action.
Additional details about Scheduled Invoices:
Set payment dates to keep you organized: If clients accept an invoice prior to the due date, they won't be charged until the date you set (but they can get all payment methods set up in advance).
Backdated invoicing to make you sure you get paid: If clients miss a due date Growth Suite will backdate the invoice once they've finally taken action, ensuring you get paid from the day you started providing services to them.
Edit or cancel invoices at any time: If clients want to change their billing details or change the services they're paying for, updating invoices is fast and easy
Growth Suite also makes it easy to bill clients for one-time and other recurring services (with or without a site attached), offering a clear path towards successful subscription billing. You can also apply discounts, add invoice notes, and bill your clients in multiple currencies — all under your own brilliant brand!
A suite of growth tools, under one roof
In addition to streamlined billing and invoicing, Growth Suite provides a ton of other helpful features, including an intuitive dashboard view of your clients and your revenue stream. This allows you to see which clients have recently paid (and which ones haven't), which services bring in the most revenue, and how much total revenue you've earned.
Armed with these insights, you can make data-informed decisions about the services you offer and your larger business strategy, setting you up for predictable, recurring revenue and growth!
And because every client is unique, Growth Suite also gives you the ability to create individual client profiles that connect to applicable services and billing, as well as custom, branded portals where clients can securely submit payments via Stripe, edit contact information, and contact you.
Grow your business with world-class managed hosting
Armed with the management and billing tools above, you'll be able to better focus your agency or freelancer business on predictable growth. But the other ingredient that makes Growth Suite so powerful is that it's built on top of an industry-leading managed WordPress platform.
By combining client management software with industry-leading performance, using Growth Suite means you benefit from blazing fast site speeds, super secure infrastructure, collaborative workflow tools, and 24/7 support, all backing up your agency or freelance business so you can embrace new clients with confidence and take your growth to the next level!