With the web becoming more and more visually oriented, images are becoming a more important part of any web design. In many markets, good photos can make or break a website's effectiveness, so any pictures you use have to be good, and they can't be the same pictures everyone else is using, either.
But we're designers, not photographers. So where are we supposed to get our pictures these days? The obvious answer is stock sites.
But now what? Stock sites are constantly growing and changing, and some of them are expensive. Plus, a lot of them are clunky and hard to navigate…or just aren't designed well, which can be tough to overlook when you're all about good design. (If that's you, there's judgment here!)
Just for you, I've combed through all the great stock photo sites we know of to make my recommendations for the best free stock images you can find on the web right now. I'm looking at things like overall quality of the images (including both file size and image definition), ease of use, and clear stipulations about image use guidelines. Here's what I've got for you!
Unsplash has long been my favorite source of free images. Their stock tends to be moody and evocative, just the way I (personally) like my images to be. It's easy to search, easy to use, and full of breathtaking views and angles. Their landscape photos are unparalleled.
One caveat for Unsplash: I've noticed in the past several months that some of the images being submitted aren't quite as high-quality as I'm used to from Unsplash. If you need a super-high-def image for your design, make sure to zoom in on the photo you're considering before committing.
I have to admit, I tried to use them a few years ago and wasn't impressed. The pickin's were just so slim that I eventually stopped trying with Pixabay. Recently I revisited the site during a chat with someone else, and I was really impressed by some of the search results that popped up! Their inventory of stock photos has come a long, long way since the days of 2014. As a result, this stock photo site is now back on my list of go-tos when I need a new image that hasn't been "done" into the ground.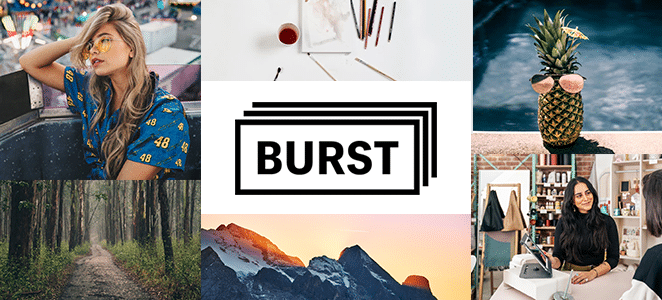 Burst, brought to us by the folks at Shopify, isn't just for eCommerce people. Their image bank is full of interesting, versatile photos that do work well for shop owners, but there's a lot that will work for any kind of design. Their images are all arranged by the topic of the image, making them easy to sort through, especially when you have a sense of what you want.
Personally, I love the tile-based layout of Burst the best of all the image sites. My favorite might be the Backgrounds database, but I'm a bit of a texture nut myself. Burst also includes helpful related categories at the top of each page, which makes it easy to keep clicking through until you get what you want (instead of back-tracking).
One of StockSnap's strengths is its robust catalog of flat lays. Whether you need food, gadgets, or something else, they'll probably have it. There's a huge variety in composition, with a lot of compelling close-ups and a great amount of work-related images, too, which aren't always easy to come by outside of the computer-and-journal motif.
Still on our favorites list is ISO Republic. One thing I personally like about this one is the counter on each image, telling me how popular it is. But, as we've mentioned before, one thing ISO Republic does really well is textures.
The shortcut to finding a bunch of interesting texture-based images is by going to Photo Categories and selecting Abstract. You can also do a search for things like bokeh, paint, wall, and of course texture. There's something so visually satisfying about looking at the "wall of textures" that comes up with any of these searches.
As the name says, http://freeimages.com/FreeImages.com is a nice source of free stock photos. The quality there is generally very good and what I like about their stock is that it's vibrant — there are so many colorful, interesting images there that make this site stand out above a lot of its competitors. If you're looking for a splash of color to pop your project, include FreeImages.com in your search.
Skitter is great because it's more closely curated than a lot of the other sites, so you aren't going to find images that everybody's used already. Last time I browsed SkitterPhoto, it was near a big holiday and there were a ton of great holiday-related shots in the new photos section, so it's obvious that it's being updated regularly.
This is maybe a little bit blasphemous to include in a blog for people who love the Adobe suite, but I'm including it anyway! Canva, the cloud-based drag-and-drop graphic design site, has a great inventory of stock photos. If you're just hopping into Canva to put together a quick graphic for social media or a blog post, do an image search within Canva itself before going to an external site. You'll be pleasantly surprised!
Venngage is another cloud-based graphic design software for people of all design levels. With templates for infographics, social media images, presentations, reports, and more, Venngage also boasts a library of stock photos. There are many stock photos to choose from when you sign up for free and even more with a premium account.
Your favorite goes here
It's easy to get into a stock photo rut and keep dipping back into the same "wells" you always visit. Did you discover a new site in this list? What are your go-to stock photo sites? Would you be willing to dredge through a clunky interface in search of an image?
PS: Wanna know a secret?
I've been writing for Layout for quite a few years now, and one of the things that has been consistent with this particular brand is the exceptional use of images. I never know what image is going to be assigned to one of my posts here, and I'm always pleasantly surprised when it publishes. Have you ever thought the same thing about this blog?
Layout uses images that no one else is using, that much is obvious. But what you might not know is that everything you see here at Layout is produced in-house! If you look closely, you'll be able to spot individual staff members all over the Flywheel website. It's fun, sure, but keeping this publication visually distinctive is also a valuable marketing tactic.
That, my friends, is what we call "branding." Your brand makes a certain set of promises, and if you're in the online space, odds are good that the visual "feel" of your site is a part of your brand. That kind of consistency is critical for web design, and we're happy to demonstrate it for you right here, every day.
---
Free Photoshop files!
Create a delightful, simple device mockup that focuses less on the brand of the device and draws all the attention to the content itself. That's why we've created these mockups you can edit in Photoshop to show off your best work! Download them for free today.