Staying organized can be tough. There are apps you can download for your phone, beautiful planners you can buy, or even blank sketchbooks where you can freely jot anything down. But no matter what your system is, there are probably times when you just want something else.
You're a designer, so you could probably design the perfect template and print it off. But if you're looking for a faster solution, there are other designers out there who have had the same idea, and who have created some awesome freebies that you can download for your personal organization efforts.
If you're ready to take your organization to the next level (for free!) check out these amazing printables:
The library from Station Seven is packed with great downloadable goodies, but we're massive fans of this one in particular! It takes a simple, straightforward view of a high quality brand and challenges you to figure out exactly what it is you do and why, who you do it for, and how you can help them. It's an incredible resource to workshop through with your creative team, gain additional insight from your client, and reference when you feel like things are starting to get a little foggy.
This blog planner kit from Designer Blogs truly is the ultimate planning kit. With 24 beautifully-designed pages of blog-planning magic, this kit is hard to beat. It has pages that will help you plan content, keep track of affiliate programs, stay on top of finance, and much, much more.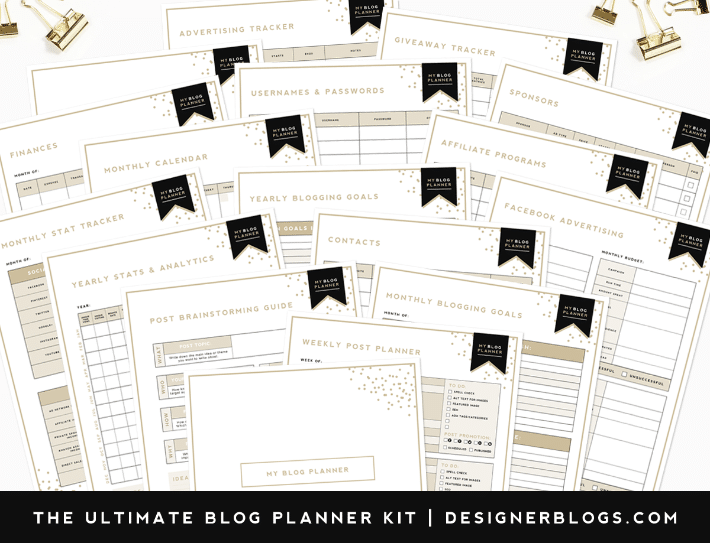 There are far too many tasks within a website design to leave the to-do list to chance! No matter how many times we go through the process, it's super duper helpful to have a step-by-step checklist the ensures we're delivering a consistent and complete experience. Pixel Glow has us covered on this one with a nice streamlined PDF that covers the basics and the often-forgotten but super crucial steps (like creating automatic backups, or ensuring your host does). There are additional blank checkboxes so you can customize your list, as well!
Whether you print this one off or create the digital version of it, we have to say we couldn't be more thrilled with the simplicity of Pig and Dac's plugin printable! Plugins can most certainly crash your site if you aren't careful, and while this is a very analog way of keeping tabs on your plugins, we totally see the value – it'll help you catch those old, abandoned plugins that haven't had an update in years. It's easy and breezy: just note the date and plugin that you either installed or updated. That way, if your site goes south for any reason, you can hand over the list to your web host and potentially figure out which plugin is the issue!
Want to make sure that your stunning designs are incorporated into a much higher-level marketing strategy? Yeah, us too! Design by Rosanna offers up this 18-page (nice!) marketing plan template that's built to help small businesses and freelancers. Use it to build your own flourishing design business or to keep your entire team on track (after all, marketing teams that document their strategy are 528% more likely to be successful).
Save yourself a click and print off a nice little desk calendar so you can set reminders, schedule meetings, and daydream about the weekend at a quick glance! We like this super minimal one from Dear Chrissy (and thought you might, as well)!

This simple and stunning business plan checklist from My Domaine is a great little one-sheeter to bring you back to the basics and make sure all the main facets of your idea are covered. Product and market, in particular, are fantastic parts of the plan to really understand when you're working with a client; if you're using this for your own business, the Financial and Management sections are a little bit of a "face the music" moment, but in a good way. 🙂
Whether it's work-related or not, this habit tracker from Ever More Paper Co. will make it extra satisfying (and aesthetically pleasing) to start good habits or break bad ones.
These are an oldie but a goodie from Life with Me! The "more of this, less of this" one is such a great way to vent after a long day of designing or running into frustrating freelance issues. They're structured around New Year's resolutions, but we think it's a great exercise to walk through all year long.

If you're new to styling up CSS or could just use a nice reminder every now and then, this CSS cheat sheet from The Blog Market is a great one to just pop on your desk and reference!
Working with a new client can be a bit all over the place if you don't have a checklist like this one from Betty Means Business to help you get all those ducks in a row. It's a writable PDF, so you can print it off and work through it or use it digitally!
Bonus: Snag this customizable PDF!
Do you have any other awesome resources that you would add to this list? Share 'em below!